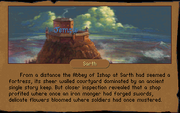 Sarth is a town located northwest of Krondor.
Abbey
[
]
It is more widely known for the Abbey of Sarth, a fortress-like temple administered by the priesthood of Ishap. The abbey sat atop a high, craggy place, a small mountain rather than a hill, an upthrust thing of rock and granite facings, flat on top like a table. Tall, iron-banded heavy wooden gates straddled its roadway. To the right a stone wall a dozen feet high stretched away, appearing to run to the other edge of the mountaintop. To the left the wall receded, facing upon a vertical drop over a hundred feet to a switchback in the roadway below. Behind the wall they could see a single tower, several floors high.
Vaults
[
]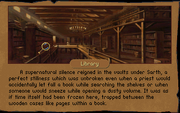 The Abbey houses one of the largest libraries in the world, in the mines below the fortress. The mines were once a dwarven emerald mine, called Mac Bourgalan Dok. Under the old keep, the hill is hollowed and filled with over a thousand large chambers There are large chambers with shelvings and shelf furniture in the center of the rooms, all packed with books.
After the Riftwar, they were tended by Brothers Anthony and Marc.
History
[
]
It was maintained by a Keshian robber-baron who was assassinated by the locals. Then it was taken by the Brothers of Ishap and travelers visit Sarth for answers that can be found nowhere else.
Prince Arutha went to Sarth to locate a cure to a mysterious poison afflicting Princess Anita. While his pursuers were formidable, the Abbey was not without defenses, as the brothers of Ishap repelled two powerful spells.
Dulanic, the Duke of Krondor, retired here to take religious vows and was renamed Brother Micah.
During the Serpentwar, the entire library was relocated to another temple, "That-Which-Was-Sarth". Shortly after, the town and the abbey were overrun by the armies of the Emerald Queen. Kingdom forces managed to liberate the town, but at a high cost.