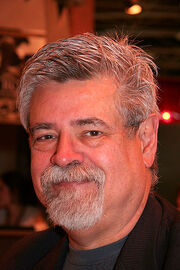 Raymond Elias Feist (born 1945, Los Angeles, California) is the author or co-author of nearly all books relating to the fantasy worlds of Midkemia and Kelewan and all books in The Riftwar Cycle. He has been writing since he first had success with Magician in 1982.
Below is the list of all books Raymond E. Feist has written or co-authored ordered by chronological (or reading) order.
Magician volume 2 Master. (1982)
Community content is available under
CC-BY-SA
unless otherwise noted.