Geoff Taylor is a science fiction/fantasy artist, who has created numerous UK covers for the books of Raymond E. Feist.

Geoff Taylor is one of the most recognised creator of science fiction/fantasy art in Great Britain today. He illustrates about 15 book-covers a year, and has done the english covers for some of the best writers of fantasy today. Besides Feist his customers include Robert Jordan, Katherine Kerr and many others. When creating the artwork for a fantasybook, Geoff Taylor likes to get a the feel and the red thread of the book, and paint the cover acording to that. He likes to obtain the right feel by talking to the writer of the book in question. Geoff originally wanted to make record covers. His first job in London though was doing a fantasy book-cover (does anyone know which?), and he has stuck to that line of buisness ever since.
Geoff has illustrated all(as far as I know) the UK versions of Feists books. This includes both the art for the first prints in the eighties, and the new artwork for the reissues. Geoffs cover artwork has a fantastic sense of scope and atmosphere, but tend to be a bit formularic. The sheer beauty of his art, has made Geoff Taylor the favorite cover artist of many feist fans.
Geoff Taylors homepage: [1]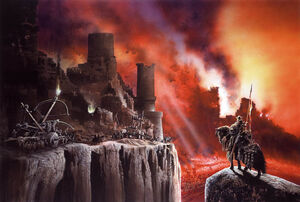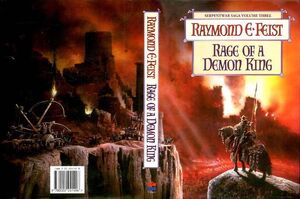 Community content is available under
CC-BY-SA
unless otherwise noted.