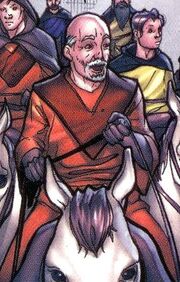 Caldric was the Duke of Rillanon, First Adviser to the King, Royal Chancellor and Knight-General of the King's Royal Household.
He had blue eyes and sporting a salt-and-pepper beard. He was an uncle-in-law to Duke Borric, the brother of Catherine's father.
He was the King's Regent to young King Rodric IV during his minority. He got this office with support from Duke Borric and Prince Erland.
He is known for establishing the practice of bringing squires to court, an innovation to produce rulers who know more than their fathers.
When Duke Borric arrived in Rillanon, Caldric welcomed him. After Borric's meeting with the King, Caldric explained to Borric that Guy du Bas-Tyra is the only person the King will only listen to.
Again, when Kasumi and Laurie reached Rillanon and met with the King, he explained to them the King's malady. He asked them to carry their offer of peace and make way for Borric.
He continued to hold his office after Lyam succeeded as King. He died shortly after the King's marriage to Princess Magda of Roldem.
Appearances
Edit
Community content is available under
CC-BY-SA
unless otherwise noted.