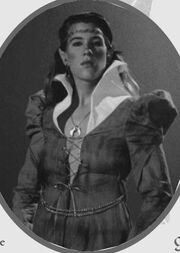 Aglaranna
is the Elven queen, of
Elvandar
.
She was the wife of King Aidan and the mother of Calin.
Before the Riftwar, she and Tathar went to Crydee in order to share with Duke Borric their knowledge about the Tsurani aliens.
During the Riftwar, Tomas was accepted as the new warleader due to his extraordinary powers.
When the war erupted, they were joined by Tomas and the dwarves of the Grey Towers. For six years they held the boundaries of the forests as Tomas grew into Ashen-Shugar, and fell in love with his Mother-Queen.